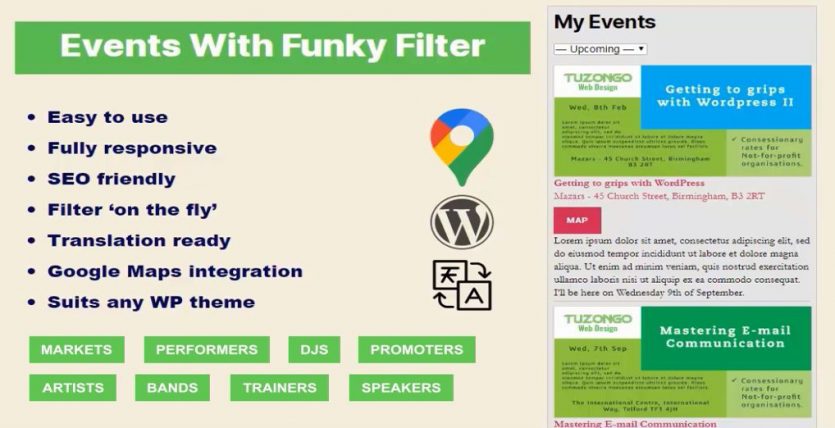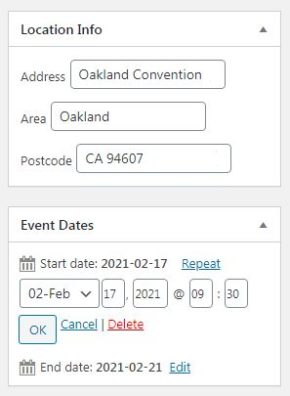 Description
Creates an interface to manage events on your WordPress website. Useful for showing events based information quickly. Includes a shortcode for ease of use with animated front-end display.
Features
Event posts created from your dashboard
Event includes image and description / ticket information
Google map of event locations
Display simple events list with widget
Display events list anywhere with simple shortcode
Funky animated event list filtering
Filter events list by area without page refresh
Installation
Upload the entire tz_ewff_plugin folder to the /wp-content/plugins/ directory
Activate the plugin through the 'Plugins' menu in WordPress dashboard
Create events by adding new Event
Add the Event List (EWFF) widget to any Widgetised Area to display a simple list of events
Please enter a Google Maps API key and enter it in Event List (EWFF) widget.
You can use the shortcode [tzevents n=3 etitle="My Events"] in a text widget, post or page to display the filterable event list where 'n' is the number of events to display and 'etitle' is the title above the list
Usage
This plugin builds on the Minimalistic Event Manager by Dan Stefancu, Manuel Schmalstieg and is suitable for any WordPress website. You a free to use it as you wish. If you find it useful, buy me a coffee.