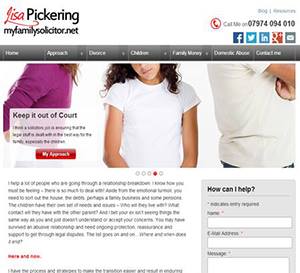 Lisa, who provides the services of My Family Solicitor, wanted a site that was as professional as her competitors while having a personal feel. She wanted an integrated blog and (among other things) a page specific contact form. The BBCode based CMS means she has control over the content and can independently make changes to how the site looks.
The responsive menu makes sure users with small screen devices can still navigate through the site. As a business operating in a specific geographical area, a customised interactive map is provided highlighting the location of free advice sessions.
The site is linked to various social networks and users are invited to share her interesting and engaging blogs.