Record levels of online spending in 2013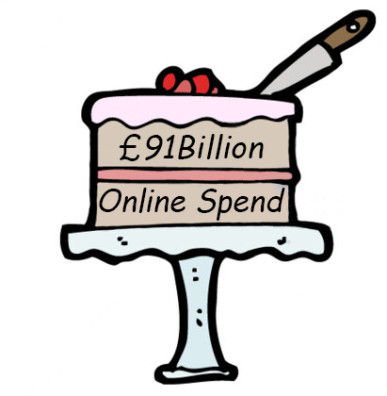 UK consumers continue to demonstrate confidence in buying online according to research.  The big cake is here and it's time to get your share.  This post reveals findings in this year's IMRG Capgemini e-Retail Sales Index and identifies what small and medium sized businesses (SMEs) need to do to get a share of the cake.
The Year of the Mobile
Branded the Year of the Mobile, 2013 saw and increase in sales via mobile devices of 138% on 2012.  Over Christmas, 27% of all online sales were made on smartphones and tablets.
More growth expected
Tina Spooner, Chief Information Officer at IMRG said the growth levels in the e-retail market is set to continue.
With online shopping having become part of our everyday lives, the growth levels we are seeing in the e-retail market won't be slowing down any time soon. We predict that the UK online retail market will achieve 17% year-on-year growth during 2014 and we also expect the £100 billion threshold will be broken, with a staggering £107 billion predicted to be spent online in the UK alone this year.
How to get your share of the cake
There are clear implications for all SMEs as a result of this research.  The need for businesses to have an online presence has never been so urgent.  Furthermore, with the increasing trend towards purchasing via mobile devices (m-retail), businesses need to gear up to cope with this demand.
Be in it to win it!
There is no better time to get an online presence than now.  As long as you are prepared to cope with the extra business that will come your way, don't hesitate. I offer special prices and monthly payment plans for start-ups.  Let's talk.
Move with the trend
If you already have a business website, does it offer a good user experience for people using mobile devices?  You should consider doing some tests for different sized screens using online tools such as mobiletest.me.  If you find that your content falls outside the screen, this suggests users on mobile devices may have a hard time using your pages.  Most will simply visit another site.  Can you afford to turn away a quarter of your potential customers?  In the majority of cases, updating an existing website built for the desktop computer to one that caters for mobile devices is relatively easy and can be achieved at a reasonable cost.
Tune up, optimise and zoom in on your niche
In order to secure your share of the growing e-retail market, getting a responsive website is only part of the answer.  To actually achieve increases in business, customers need to find your pages among the thousands of others out there.  Customers are using search engines to find the products and services they need which means your website needs to be tuned up or optimised to ensure its pages are appropriately indexed. In my previous post, I discuss how SMEs can outrank much larger companies.  It is not the case that the size of a website impacts on individual page rankings.  Quality is still king and by identifying your business's particular niche and zooming in on that, you can enjoy rich benefits.